"Ferocious in protecting the client"
Chambers & Partners
Claire Gill
Partner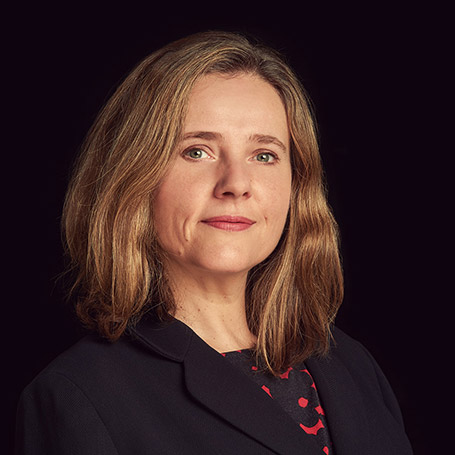 Claire is a partner in the firm.  She is a leading specialist in defamation, privacy, data protection and protection from harassment.  She also undertakes complex commercial litigation, including claims for professional negligence and financial mis-selling.
Reputation, Media and Privacy
Claire is recognised as a leader in this field. Her clients include politicians, celebrities, business people, global corporations, professionals and academics.
She has very wide experience in media litigation and reputation management. She works with her clients whose rights have been infringed to secure vindication, through the removal of online content, the publication of retractions and apologies and the payment of damages.
Claire gives urgent trouble-shooting advice before publication or broadcast. Often working alongside PR advisers, she helps companies and high-profile individuals to deal with unwanted media scrutiny, with a view to preventing publication of material that would infringe their rights to reputation and privacy.
Claire is an expert in the rights of individuals under Data Protection legislation including the General Data Protection Regulation (GDPR) and works for her clients to secure the removal or amendment of unlawful material published online or elsewhere, including in due diligence reports.
Claire regularly gives talks on the subject of defamation and privacy and reputation management.
Commercial Disputes
Claire has acted for numerous individuals and businesses pursuing claims against banks for mis-selling derivative products.
Claire is a member of the advisory board to the school of business and law at the University of East London.
Claire is consistently cited in the key legal directories as an expert in her field and highly praised by her clients
Chambers 2022 report "She is sharp, knowledgeable, has seen it all before… [and is] client service and solution focused."

Legal

500

2021 reports Claire provides 'exceptional client service, being very responsive and attentive and solution focussed.'
Chambers 2021 report Claire has 'great judgement and insight,  is very calm and someone who you want in a crisis.'
Legal 500 2020 rank Claire as a Leading Lawyer.
Chambers' Guide to the legal profession lists Claire as a leading individual and says she is "extremely pleasant to work with, stays calm in a storm and is sensitive to the matters at hand".
Chambers 2020 says Claire is "absolutely excellent".
Claire is featured in the Spears Wealth 500 Directory.
Chambers & Partners 2019 says sources label Claire "a technically brilliant lawyer" adding that "Claire offers clients significant litigation experience, with particular experience on defamation and misuse of information cases."
Spear's Wealth Reputation Lawyers List 2020 and highlighted as 'Distinguished Individual'.
Chambers & Partners 2018 said "Claire is ferocious in protecting the client and understands the issues."
Claire led the groundbreaking litigation against Google which implemented the so-called 'Right to be Forgotten' in England and Wales.
The court ordered Google to delist results about a man's past conviction from searches against his name, upholding his claim for breach of data protection rights and misuse of private information.  The case addressed what the judge called 'novel questions which have never yet been considered in this court.' For this, Claire was named 'Lawyer of the Week' in The Times newspaper.
Claire continues to act for numerous clients seeking to invoke the Right to be Forgotten to secure the removal of outdated or inaccurate content online.
She has represented many foreign nationals and corporations and advises on jurisdictional disputes.
Claire has acted in numerous claims against various national newspapers and broadcasters, including the publishers of The Daily Mail, The Times and the BBC, and also acts in cases against individuals and organisations including public bodies.
In addition to her work for claimants, Claire also advises individuals and organisations on the receiving end of a libel complaint.
Claire has worked on a wide variety of highly sensitive cases, often with a geopolitical element in an international context, including for political figures and Ultra High Net Worth individuals.
Claire acted for many years for the late Russian businessman and politician Boris Berezovsky including successfully resisting his extradition to Russia and opposing other measures taken against him by the Russian government.
Libel Cases
Berezovsky v Fridman, in which a jury awarded Mr Berezovsky £50,000 in damages;
Berezovsky v Terluk in which Mr Berezovsky was awarded £150,000 in libel damages relating to the allegation that he murdered his friend Alexander Litvinenko;
defending a Twitter libel claim brought against founder of the Indian Premier League Lalit Modi
acting for former MP Tim Yeo in his claim against the publishers of the Sunday Times
representing Impresa Publishing SA, a leading Portuguese publisher defending a libel claim brought by a Portuguese-Angolan national whose claim was struck out as an abuse of process
representing members of the Anglo Peruvian Society in a claim for slander brought against them by a former member whose claim was also struck out.
In a major commercial dispute she acted for a company in liquidation in a claim for professional negligence against the company's former solicitors, which resulted in a payment in damages of £10 million.